Good morning my curious friends,
Here is the 75th serving of the Breakfast Notes.
I wrote a mini-essay explaining why I am undertaking a personal project to study people of greatness.
In the words of Will Durant, 'Every great book, every work of revealing art, every record of a devoted life is a call and an open sesame to the Elysian Fields.'
What use is 'open sesame' if we don't help ourselves to the treasures.
Read the mini-essay here.

Insightful Links of The Week
The Cold Start Problem. Andrew Chen of Uber and A16z fame tackles head-on the dreaded "cold start problem"- which is the infamous churn challenge that many startups face. They just cannot get users to stick. He interviews CEOs and founding teams of world-class companies like Twitch, Zoom, LinkedIn,  Dropbox, Airbnb, and Pinterest to excavate these insights. (One may argue that in some cases, he had misdiagnosed certain companies as successful when in certain cases, they were just furnaces for cash) However, what I like about this book is his epistemic approach. First, pick out a hard problem that everyone is trying to solve. Second, speak to anyone who has adequately tackled the problem. Third, learn voraciously.
The Ultramarathoner Fighting Death. When it comes to fitness, we assume we will keep progressing till the day we die. We never really see our regression in real time. Most of us, including professional athletes, are happy to age out of sight. This adapted excerpt follows Dag through his gradual decline, from completing his first ultramarathon and slowly regressing over the years. Yet, he continues because he believed he had to push his limitations to accept them.
Using ChatGPT to Learn Better. When you use ChatGPT, you feel like you're talking to a really smart person. It messes your head up because the app is meeting your conversational expectations thus giving you an impression of sentience. But as the British programmer, Simon Willison describes it, it's better for us to think of ChatGPT as a calculator for words. This means we can use it for language manipulation rather than a God-tier search engine. This is why it might be wiser for us to ask it to summarize our mother's nagging as opposed to asking it to suggest gifts for our Mothers.
On that note, here is a quote on mothers by the great writer, Rudyard Kipling, that I have been really been pondering about,
"God could not be everywhere, and therefore he made mothers."
Visualization of The Week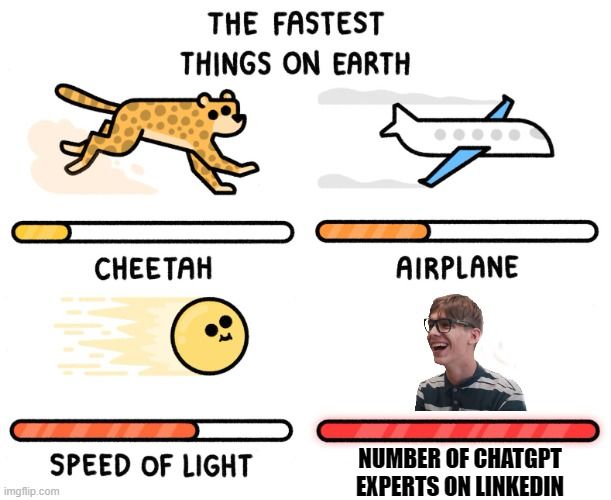 Who else is tired of $99 ChatGPT prompts written by ChatGPT that will apparently 20x your productivity?
🧇
Want to get a weekly dose of great internet reads that will feed your curiousity?
May the sun shine upon your face and may you stay curious,
Keith