Studying Greatness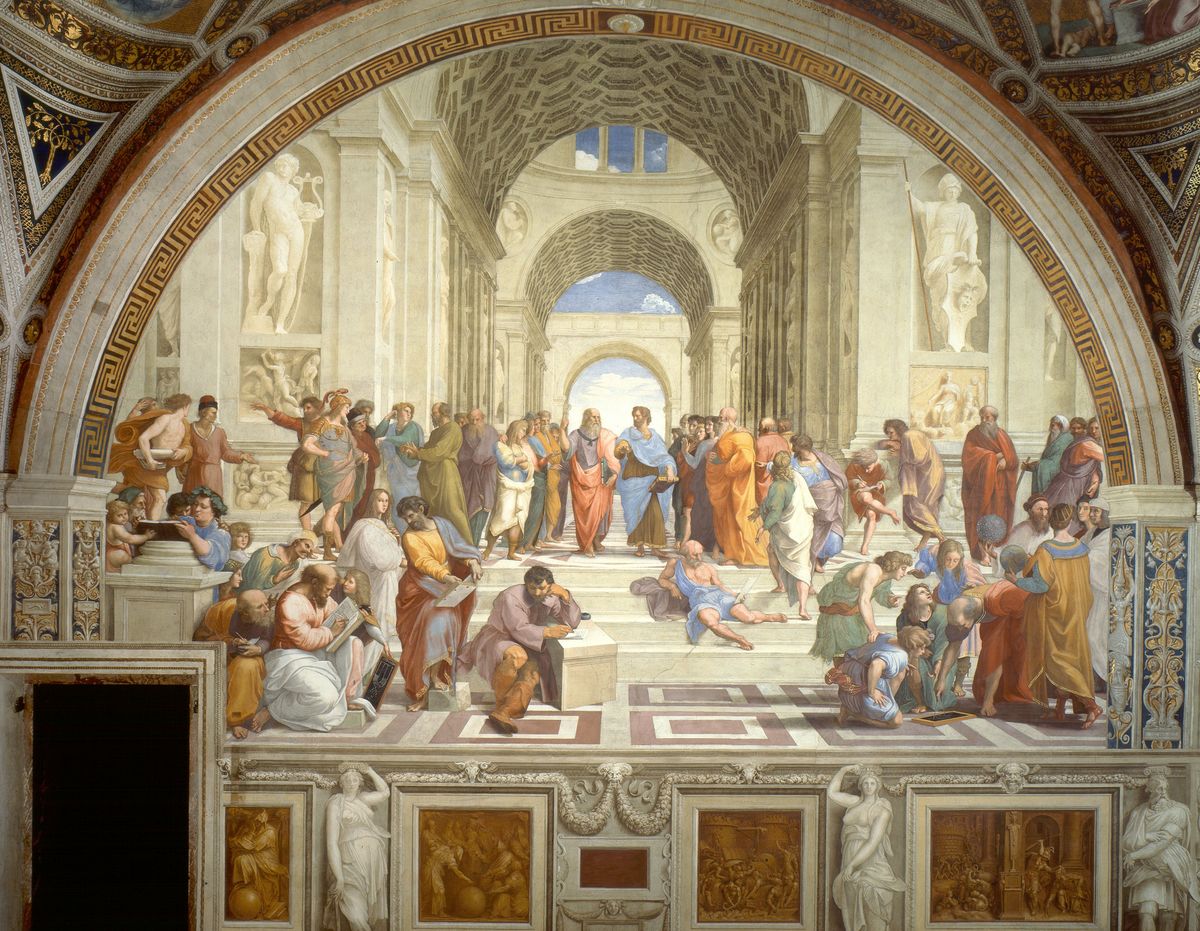 "The weakness of democracy is that the assumption that all men are equal and capable of equal contribution to the common good is flawed." - Lee Kuan Yew, Founding Prime Minister of Singapore.
The School of Athens depicted Raphael's imagination of how it would look if the greatest mathematicians, philosophers and scientists across the different eras preceding the Renaissance congregated to share and learn from one another. Over time, Raphael's fresco has come to symbolize the rich intellectual tradition of classical antiquity.
A huge mistake of our culture today is that we stopped encouraging people to study the greats.
We live in an age of democratic dogmatism. We mistakenly assume that democracy is the ideal and is universally applicable across all domains. We now believe that equality, not greatness, should be celebrated.
We hesitate to praise and adore greatness when we see it; we magnify the flaws of living geniuses and chalk the accomplishments of the dead ones up to luck.
The Two Views of History
"I want to see history written as a whole; I want to see all these activities of men and women in one age woven into unity, shown in their correlations, their interdependence, their mutual influences; I want the past presented as it was -- all together." - Will Durant, American historian and philosopher.
Fundamentally, it boils down to how we perceive how history unfolds.
The school of the British philosopher Thomas Carlyle teaches us that history is nothing more than the biographies of "Great Men".
He proclaims that it is the great men who drive history forward :
"Universal History is the history of what man has accomplished in this world. At the bottom, it is the History of the Great Men who have worked here. They were the leaders of men, these great ones; the modellers, patterns, and in a wide sense creators, of whatsoever the general mass of men contrived to do or to attain; all things that we see standing accomplished in the world are properly the outer material result, the practical realisation and embodiment, of Thoughts that dwelt in the Great Men sent into the world: the soul of the whole world's history, it may justly be considered, were the history of these."
Simply put, greatness cannot be replicated. It is the few exceptional and irreplaceable talents that account for a disproportionate improvement in our civilisation.
Take Michael Jordan out of the equation; the NBA would have never become a global sport.
Take Steve Jobs out of the equation; the idea of a beautiful computer would have never come to pass.
Take Lee Kuan Yew out of the equation; Singapore would remain a 'backwater kampung'.
You might find this incredibly unfair and say that surely, someone else would have taken up their place in history if they didn't. You might find yourself siding with Giuseppe Mazzini, the Italian revolutionary - who argued that it was humanity's collective intelligence that drives civilisational progress.
You may instead take Marx's view that history is simply a mechanical unfolding of events - in which human agency is just background noise.
Either way, in both cases, great people are relegated to footnotes.
But two things can be true at once.
The tides of History and present conditions can shape the development of geniuses, just as it does for everyone else. But great people can decisively influence the trajectory of human civilisation.
The Case For Studying Greatness
"Genius is not the result of compounding talent. How many battalions are the equivalent of a Napoleon? How many minor poets will give us a Shakespeare? How many run-of-the-mine scientists will do the work of an Einstein" - Sidney Hook, American Philosopher
Even if I am hopelessly wrong about the flow of History, I will commit myself to study the greats who have climbed to the proverbial mountaintop.
They would be the ones who have made a dent in the universe, whose body of work has stirred me deeply.
Thus, I hope to paint my Internet School of Athens, assuming imagined discipleship from the statesmen, writers, artists, and entrepreneurs I have found personally impactful.  
(I must admit this project is a personal forcing function for me to spend more time reading deeply instead of doom-scrolling on social media)
The internet entrepreneur of Netscape and A16z fame, Marc Andreessen, succinctly explains the primary benefit of studying the greats,
"There are thousands of years of history in which lots and lots of very smart people worked very hard and ran all types of experiments on how to create new businesses, invent new technology, find new ways to manage etc. They ran these experiments throughout their entire lives. At some point, somebody put these lessons down in a book. For very little money and a few hours, you can learn from someone's accumulated experience. There is much more to learn from the past than we often realise. You could productively spend your time reading the experiences of great people who have come before, and you learn every time."
Another benefit of sitting under the pantheon of greats is observing their shortcomings up close. We can take comfort in their testimonies that our flaws are neither fatal nor final. Just like them, with all our imperfections, we can still leave a meaningful mark on this world.
As Thomas Carlyle, the British historian, puts it,
"One comfort is that Great Men, taken up in any way, are profitable company. We cannot look, however imperfectly, upon a great man, without gaining something from him."
Most importantly, in studying greatness, we get to feel the electricity of divine inspiration and, in doing so, be pushed to answer our call to adventure.
🧇
Want to get a weekly dose of great internet reads that will feed your curiousity?