Breakfast Notes #78 (The Richness of Australia)
Good morning my curious friends,
I have just wrapped up a work trip in Australia. I must confess that being in Australia has ignited my curiosity for exploring the diverse tapestry of this incredible country's past.
In today's newsletter, I thought I could share with you the links to the internet that has enriched my cultural education here.
Here is the 78th serving of the Breakfast Notes.
Insightful Links Of The Week
The Sydney Culture Essays. In 2017, the Committee for Sydney wanted to articulate better what the spirit of Sydney was. If one inspects the world's leading cities, we can understand what that city has come to represent. In Singapore, it's our relentless nation-building. In New York, it's unbridled American ambition distilled to its purest essence.  In Paris, it's romance. This series of essays seeks to demonstrate the value of Sydney as a hub of Australian culture. One particularly illuminating essay would be Sydney: City of Festivals. It traces the development of Sydney's iconic festivals- revealing the truth of their staying power. It's Sydney's constant prototyping of the new and obsessive exploration of showcasing exciting developments. From walking the streets of Sydney and watching the dazzling displays of light shows, I can say that Sydney is indeed a city of culture.
The Spirt of Cities. Daniel Bell's book, the Spirit of Cities, explores the leading cities' unique characteristics and cultural identities worldwide. Drawing upon various disciplines, including sociology, history, and cultural studies, Bell examines how cities are shaped by their inhabitants. He delves into the distinct "spirit" or ethos that defines each city, encompassing its values, aspirations, and collective consciousness. This lecture acts as a perfect primer for those looking to understand how cities evolve.
The Tim Tam Slam. Inspired by McVities' Penguins, an unsung hero named Ian Norris decided that he must create a superior biscuit. A decadent biscuit buttery rich with chocolate cream called Tim Tams was born. This luxurious biscuit that has become Australia's national treat is so loved by Neil Degrasse Tyson that he spent a whole 90 seconds explaining the science of a Tim Tam slam. The Tim Tam is yet another classic example that the first mover's advantage is not as secure as we all thought.
The OG Librarian. If you hop on social media and search the State of Victoria Library, you will find hundreds of perfectly-taken shots. Well, you have Sir Redmond Barry to thank.  The man was known to be the dictator of the Library. He virtually single-handedly planned the Melbourne Public Library building and its contents. He was known to be 'as capable at dusting the books or acting temporarily as a porter as at chairing the trustees' meetings at the library.'  It was even said that even before the State Library was founded, he would make his house a library for people to visit and read in. It was largely thanks to him that Melbourne today is called the nation's literary capital.  
Visualization Of The Week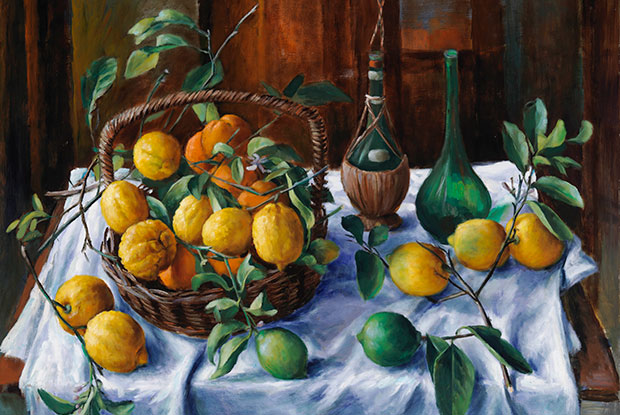 Is this a Midjourney AI visual or just a stunning still-life portrait?
If you are guessing, it means the artist is just frickin good.
Margaret Olley was a highly esteemed Australian artist known for such realistic paintings.  
Olley was 'one of the best damn still life painters' and was known to create works characterized by bold brushwork, vibrant colours, and a keen eye for capturing the beauty of everyday objects.
Thank you for reading this and may the sun shine upon your face,
Keith