Hello friends,
Here is the 70th serving of the Breakfast Notes.
Insightful Links Of The Week
The Hidden Impact of COVID-19 on US-China Relations. Sir Angus Deaton, the Dwight D. Eisenhower Professor of International Affairs at Princeton University, gave a fairhanded and insightful analysis of the deteriorating US-China relations. One nugget of wisdom from his speech - "too little discussed is the deterioration in relationships from the lack of face-to-face contact between Americans and Chinese people. The customary situation, of heavy and easy travel between China and the US, not only promoted business and academic exchange but promoted understanding of developments in both countries." This same logic underpins my skepticism towards the permanence of remote work and the view that Zoom meetings are no different from physical meetings.
Your Right to be Happy. Will Durant is one of America's greatest literary historians. You might object to his historical view but cannot deny his literary flair. If Chesterton built a fence, he tells you why Chesterton did it. Take this prescient 1958 commencement speech as an example. Before mainstreaming contraception and sexual liberalisation, he noted that 'Our civilization has unwisely stimulated this sexual impulse. Our ancestors played it down, knowing that it was strong enough without encouragement; we have blown it up with a thousand forms of incitation, advertisement, emphasis, and display, and have armed it with the doctrine that inhibition is dangerous, whereas inhibition, the control of impulse, is the first principle of civilization.'
The Economics of Target. Target brought in $109 billion in 2022. That's not too shabby for a 'department store' threatened by the rise of e-commerce. Their secret to success lies in their slogan- "Expect More, Pay Less". Make the place so exciting that every purchase feels like a treat.  Dress up the store and make it as millennial-friendly as possible. Their obsession with design at every level is why they have become such a profitable business. (Their logo is so intuitive that you can guess who they are without the name!) As a commenter online puts it, 'if you go to any other retailer, their carts will be uncomfortable steel frames with bad wheels. At Target, their carts have cupholders.' For more on Target, check out this 14-minute CNBC video.
Visualisation Of The Week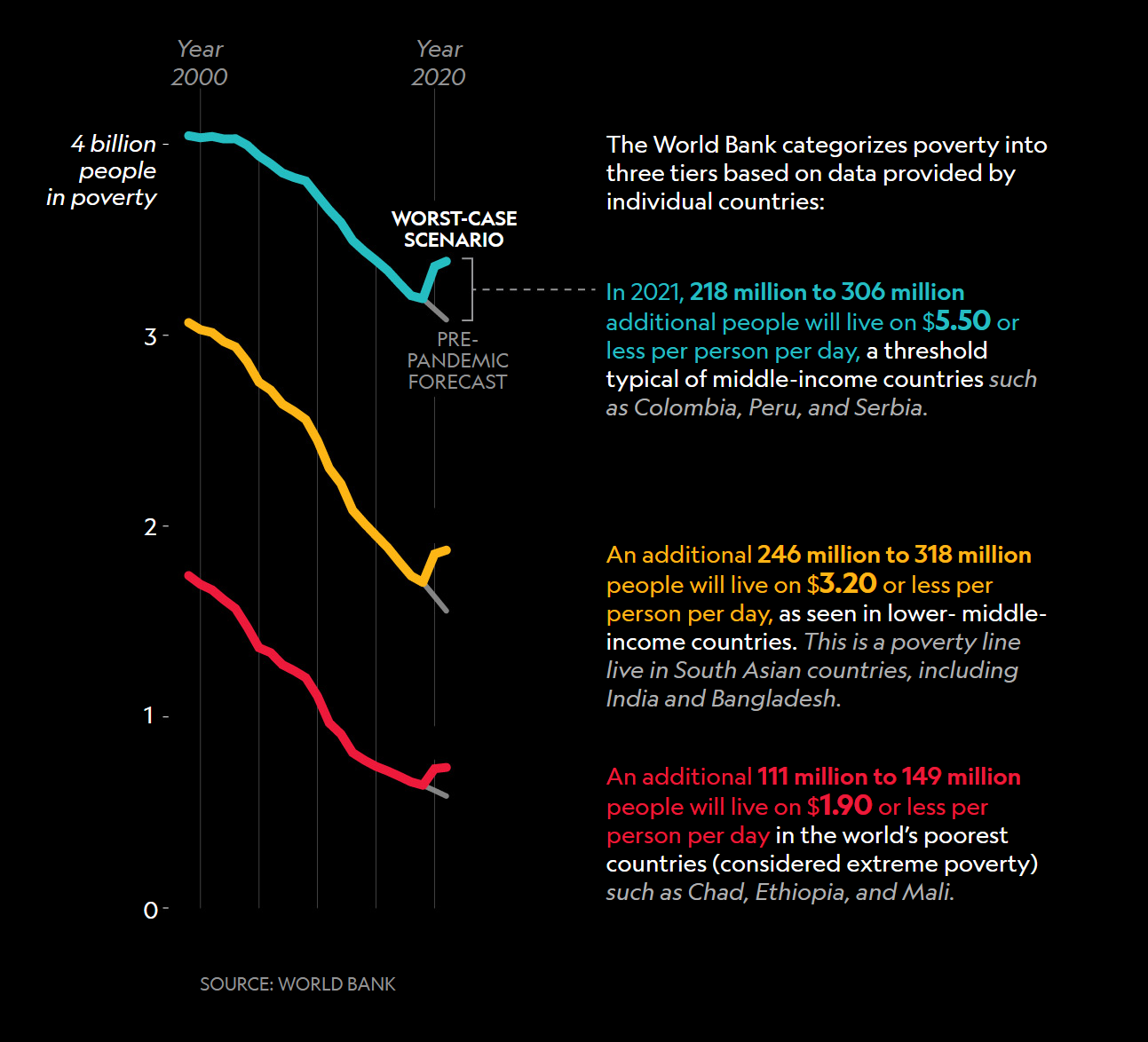 A blast from the past.
According to the visual prediction in October 2020, by the end of the year, approximately 100 million more people were expected to live in extreme poverty (less than $1.90 a day), with millions more falling into less extreme poverty. The projection is already grim, and continued lockdowns could worsen the situation in 2021.
It turns out they weren't too wrong.
May the sun shine upon your face,
Keith